Nonfiction Books
ALL AVAILABLE TITLES: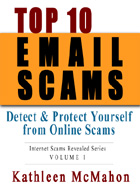 Top 10 Email Scams examines the 10 most common types of email scams on the Internet - what they are, how to recognize them, how to avoid them and actual email examples.

more details >>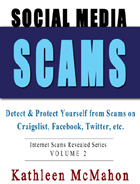 Volume 2 takes a closer look at Internet scams on popular social media sites like Craigslist, Facebook, eBay, Twitter, etc. Provides examples and advice on how to not become a victim.

more details >>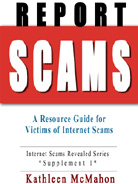 This supplemental resource guide saves time and bring together a guide to resources where you can report a scam. Provides steps on what to do and tips on protection.

more details >>
---
TITLES IN DEVELOPMENT: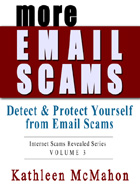 Expected Release Date: March 2013

Having many more important email scams to highlight, Volume 3 explores online purchase scams, paypal scams, cash the check scams, seo scams, online ticket scams, stock manipulation scams and much more.

more details >>
---
TITLES OUT OF PRINT: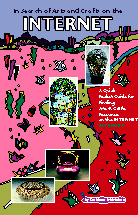 Release Date: 1995

This book contains information about art and craft activities onthe Internet and the World Wide Web, how to get on the internet, where to begin, and more. Kathleen's book will help you learn in non-technical language how to utilize the new electronic media to develop your art and craft interests.