Book Store
Note: Thanks for making your purchase directly from KTMObooks! I appreciate the support as an independent author. Your digital eBook can be delivered as a PDF, MOBI, or EPUB file (PDF is the default). Payment is handled by PayPal (you do not need to have a PayPal account to pay with a credit card, just click on the green Add to Cart button on this page and then the orange CHECKOUT button on the paypal checkout page to proceed without logging in). File will be sent to email address you provide PayPal, unless you tell me otherwise in the comments field.

Please make sure our e*mail address (info at ktmobooks dot com) is on your "safe" white list so your ebook doesn't end up in your spam folder. We may also be sending from katiemoe at hotmail dot com if our bandwidth usage gets too high. Purchased eBooks are sent manually so please be patient but contact us if you do not receive it within 24 hours. Some of my books (both eBooks and Print) are exclusive with Amazon for certain periods of time.

Quantities and items can be adjusted once you view (or checkout) your shopping cart.
---
Internet Scams Revealed: Volume 1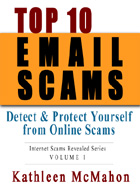 ---
Internet Scams Revealed: Volume 2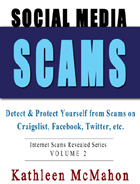 ---
Internet Scams Revealed: Supplemental Resource Guide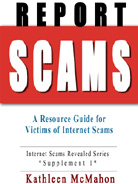 ---